You go into a restroom and there are 9 urinals/cubicles, all available. Which one would you choose, from left to right?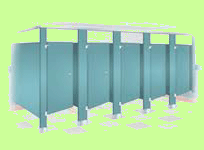 Analysis
Gentlemen:


The behavior of men in choosing urinals is different from that of women choosing restroom stalls, according to some reports. Whereas more women prefer stalls in the middle section, men prefer urinals to either end of the line, obviously hoping to draw as little attention as possible. Those men who actually choose urinals in the middle (4, 5, or 6) seem to be less self-conscious and less likely to succumb to external influence or pressure.


Ladies


Women who choose stalls 1-3 are more flexible and can adjust to a new situation quickly. These women tend to be direct and straightforward, and they would not hesitate as much as others when confronted with decision-making.

Women who choose stalls 4-6 are cautious, moderate, balanced. They refrain from going to extremes and generally want to feel safe.

Women who choose stalls 7-9 have a stronger sense of ones' own space; they would not mind going a little deeper into the corners, where it's less likely that they'll be disturbed, even though other women would consider such positions more "dangerous" ones.