All tests - Shapes - Picture Test
Complete the drawing.
Sketch the picture below as you see it onto a piece of paper.
Next complete the drawing.
In the analysis below match your sketch with the picture it most closely resembles.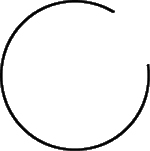 Analysis

Which of the following pictures does your sketch most closely resemble?

You are a person who observes and values conventions. You prefer your life to be organized and you do not like surprises. Whereas predictability and certitude wear down some people, they form the very foundation of your world. Practical and straightforward, you enjoy simplicity more than you appreciate romanticism.
You are a person who strives for a balance between dependability and imaginativeness. You enjoy variety in your life but are also keenly aware of your duties and responsibilities. As result, even though you would experiment here and there, you rarely lose sight of what is fundamental and essential and can be counted on to fulfill what is expected of you.
You are inspired and inventive. You do not take the rules and mores of society as seriously as others. Eager to explore all possibilities, you hesitate little when striking out for a path of your own. Having no patience for routines and discipline, you seek adventures that may or may not be rewarding in the end. It is an unknown world out there.
How do you view the quiz and how did the results make you feel? Share your opinion by participating in the discussion below.
---